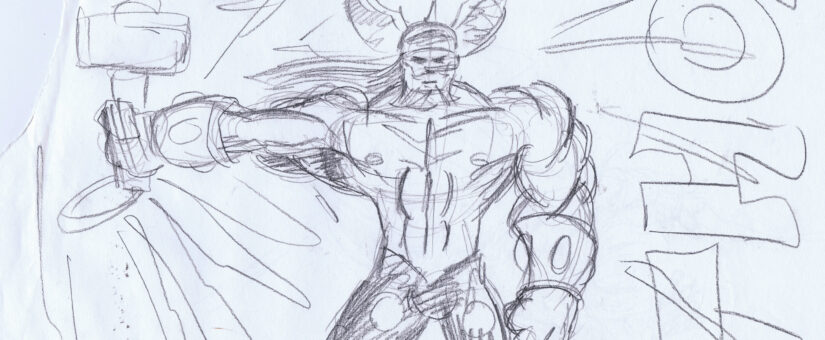 1996 Thor – Promo Concept
Posted by PETER A DELUCA AKAPD
On February 1, 1996
1996, archive art, archive art homepage, art archive, Art archive homepage, marvel, thor
It's shocking to think but back in 1996 Thor, you know the OL'yee Mighty One desperately needed an upgrade on the level of how McFarlane cranked up on Spider-Man to the point of making your eyeballs pop. This was very much the attitude a spectator/creator like myself approached any property that wasn't in the Wizard Top 10. This was echoed by Stephen Platts's approach on Moon Knight (October 1993) the big idea if he could make Moon Knight a legit cool character then it had to be done to Thor. Along the line of this featured Promo piece were two items of note 1) Make Thor as naked as possible 2) Go crazy with lightning effects and through this create a storyline to showcase both of these positions.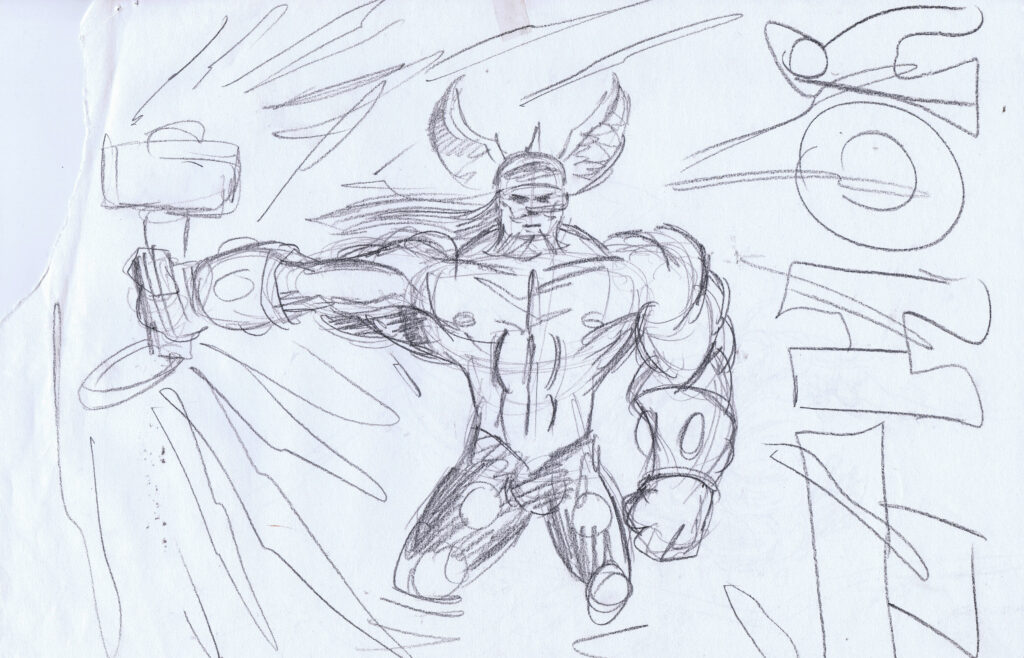 It needs to be noted that during this time I was not in a comic book shop every day, my interest in Wizard Magazine waned, and the industry as a whole wasn't a focus, my marching orders were to create and practice illustration. Some parallel ideas emerged which were a sweet validation for me once they came about. Hope soon a future AKAPAD.COM article will highlight what I am about to list.

The direction of Thor would echo this 1996 fantasy of mine. Here have a look.
1) Warren Ellis and Mike Deodato JR would introduce a shirtless boiled down take on Thor starting with The Mighty Thor #491 (1995)
2) Supreme #8 Premieres Rob Liefeld's Extreme Universes version of Thor who wielded a long Hammer (1994)
3) A long hammered Thor would be featured in the Marvel Comics Thor reboot of Heroes Reborn also produced by Rob Liefeld (1996)

Now of the time and through the immediate years if you asked me which came first I would have said my work was there proving my ideas were FIRE and the BEST IN THE WORLD however that's not the case with the simple timeline above.

Artwork Details
Material: Pencil
Surface: White Construction Paper
Size: 18×24

Related
AKAPAD is a versatile thinker known across Philadelphia, Europe, and even in the vast Multiverse as The Electic One. By day, he excels as an IT Mastermind, assisting individuals, both big and small, with a wide range of simple and complex solutions. In contrast, he is also a talented illustrator, a passionate comic book enthusiast, a creative content creator, and an active live streamer. Additionally, his podcast, "AKAPAD The Film Buff Podcast," boasts an impressive catalog of over 500 episodes available on nearly every major platform.