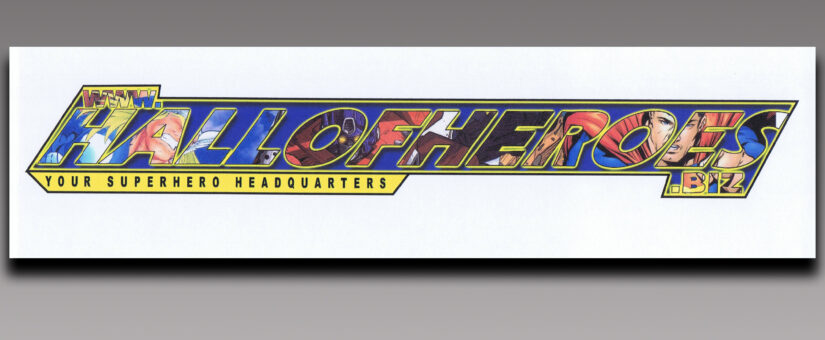 Hall of Heroes – Concept Website Banner
Posted by PETER A DELUCA AKAPD
On March 22, 2004
2004, archive art, archive art homepage, hall of heroes, website client, website design, website design archive
My time at Hall Heroes doubled as both a first-time comic book retailer and an active website developer. Here is the concept pitch I submitted to then-owner Sal Fichera and his wife Marie and got the approval to move forward with the look and feel while figuring out the retail aspect. Two major notes at the time.

If you take a look at the "HALL" depiction of Cable is an artwork OF Ken Haeser Pete's future collaborator for The Eyes of Asia.


Another note is the website was pitched to be HALLOFHEROES.BIZ the reason for this is a philosophy that rings true for Peter even today. It doesn't matter what your logo is, colors, or even name, what matters as a business is how well it's designed and performed, this is what separates everything. Sure a .com would have been great and typical but it would have never made the site something great and that's what it needed to be.
Medium:
– Adobe Photoshop
– For Ken Haser ("HALL" portion) Penci, colored in Adobe Photoshop


AKAPAD is a versatile thinker known across Philadelphia, Europe, and even in the vast Multiverse as The Electic One. By day, he excels as an IT Mastermind, assisting individuals, both big and small, with a wide range of simple and complex solutions. In contrast, he is also a talented illustrator, a passionate comic book enthusiast, a creative content creator, and an active live streamer. Additionally, his podcast, "AKAPAD The Film Buff Podcast," boasts an impressive catalog of over 500 episodes available on nearly every major platform.