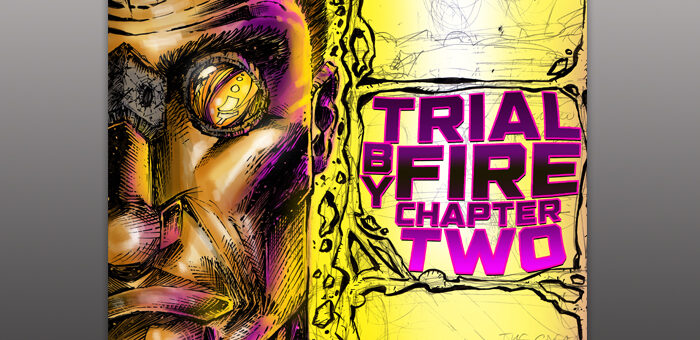 REJECTED! – Trial By Fire Chapter 2 Title Page – Newley Discovered
On January 20, 2022
2021, homepage blog, tbf rejected page, trial by fire, trial by fire production
This is one of those times you uncover an idea/files you completely gave up on knowing you full well could have pushed hard to discover that deeply hidden crevice of making it work. What led to me walking away from this is I had zero ideas for what chapter two would look like, I had not decided on the coloring style, and I was experimenting with blobby thick panel borders inspired by the Hall of Heroes Creed Comics.

Failures like this teach a valuable lesson.
"GET YOUR SHIT TOGETHER DELUCA, STOP WASTING YOUR OWN TIME"

Below: Here we have the three phases of this page.
I was so anxious to get the purples and the yellows on this I rushed to start a digital coloring test to see how well everything could come together. Keep in mind, at this stage I had no idea of what the finished page should look like.
My enthusiasm for this page continued with a title dress for the middle panel. Theme and stylistic wise the title was a bad move, TBF's finalized art direction dictates a grid-based presentation emulating the thought process of Ceasar who's featured on the page.