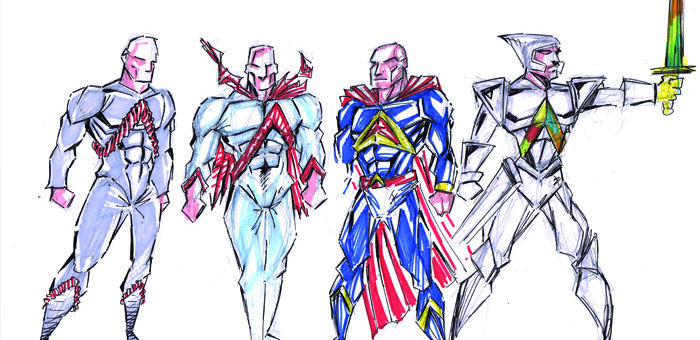 ALFAMAX – Through the Ages – Character Design
On December 4, 2021
2021, CHARACTER DESIGN, DARK HERO, DARK HERO PRODUCTION, homepage blog, prisma, prismacolor markers, prismacolormarkers
Created on a Monday Night Draw and Claw live stream to promote the ten upcoming Indiegogo campaigns here is the main character of what would have been known as Dark Hero (title soon to change) as he would appear through the ages and plot of the comic book series.
For now, the working renaming of this character is ALFAMAX. We'll see how well that sticks. But for now, check out the designs as he would appear throughout his fictional life.

The ages depicted here are…..
– Golden ALFAMAX: During the height of the age of superheroes.
– Kingdom ALFAMAX: General in the great superhero war the ravaged Earth.
– ALFAMAX the Return: After 10 years away chasing down a signal only he can see and hear ALFAMAX returns to Earth.
– Final Form ALFAMAX: The story begins.
** Production Note: The original spelling for ALFA was Alpha as seen hand-lettered on this piece however, the creative fallout/meltdown with Chris Hicks (Twitter found here) forced a spelling change to ensure legalities and fairness.